by Charise Hale McHugh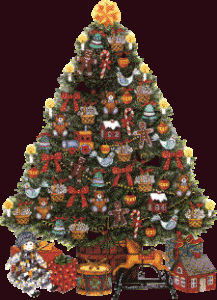 November 2011— Come walk amongst the promenade of trees all aglitter with beautiful lights on Main Street in downtown Half Moon Bay on Friday, Dec. 2, 2011. Night of Lights promises to be extra special this year because you can enjoy shopping in the stores, which will be open until 9 p.m., as well as watching the parade, listening to live entertainment, visiting the children's area, and enjoying light shows.
Night of Lights will begin with a tree-lighting ceremony at Mac Dutra Park on the corner of Main Street and Kelly Avenue at 6 p.m, featuring a magnificent 12-foot Douglas fir donated by Santa's Tree Farm & Village. After the tree lighting, the prince and princess of the parade will be crowned. The royal children are nominated by teachers and community leaders and chosen by a committee based on their acts of kindness throughout the year.
Hundreds of children twinkling in lights led by the Half Moon Bay High School Marching Band will march down Main Street in the Parade of Lights at 7 p.m. Floats and an old-fashioned fire truck will guide Santa to his special seat for photos and wish lists. Other events include roasted chestnuts on an open fire, strolling carolers, harpists and lots of old-fashioned charm. There will be music in several locations; performers include the Half Moon Bay Sit Down Band, Santa Claus, the Scottish Fiddlers at La Piazza, Pamela Bowen (harp) and Mary Corcoran (vocals) with traditional Christmas carols and Celtic songs at Barterra Winery, and the Sol Belly Dancers — with guest dancers, too.
The Boys and Girls Club of the Coastside is sponsoring the children's area with the assistance of local schools and non-profits. Get ready for some fun with the Boys & Girls Club selling holiday items, Coastside Children's Programs offering crafts & candles, Sea Crest School selling popcorn, and Millie Golder and her Interact Club selling hot cocoa to warm your tummies!
And of course, the dependable American Legion will have a hot dog and Polish dog booth along with waters, coffee and soft drinks.
The shops and restaurants will be open late for browsers wishing to see and taste the unique holiday treasures Half Moon Bay has to offer.
Night of Lights is brought to you by the Half Moon Bay Coastside Chamber of Commerce & Visitors' Bureau and the Boys and Girls Club of the Coastside. Many local businesses serve as sponsors for the event: