Passport to the Wineries
November 19, 11 a.m. – 5 p.m.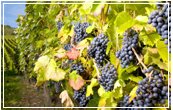 Passport to the Wineries is back again, including over 50 Santa Cruz Mountain wineries. Enjoy the scenery filled with mountain top vistas, or catch a glimpse at llamas while passing along the winding drive through the Santa Cruz Mountains, where the trail is half the experience! Take advantage of the Passport Program, which offers a unique opportunity for guests to visit wineries not typically open to the public at other times. Guests will tour the facilities, meet the winemakers and sample their product, including special wines poured only for participants in the Passport Program. Passports never expire and are valid until all the wineries have been visited. $40 per person. For more information or to order a passport, call (831) 685-VINE (8463), visit the website at www.scmwa.com.