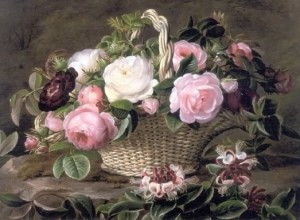 Tour des Fleurs – A Unique Experience Awaits You on the Coastside
"… Tour des Fleurs offers the public a once-a-year opportunity to tour our local nurseries/greenhouses, wineries and farms. Many of these businesses are not ordinarily open to the public and during Tour des Fleurs they invite you for a "behind the scenes" tour of their facilities and operations. Some will share helpful tips to pruning and caring for flowers, others will share their key to an efficient operation whether it's a nursery or winery, and some will share their colorful and fascinating family history and how it shaped their businesses today.
Special flower gardens, calla lilies, dahlias, violas, oceans of roses and hydrangeas, organic herbs and field greens, California native plants surrounded by streams and waterfalls, a working dairy farm, acres of succulent berries, Coastal wineries, an abundance of potted plants of every variety and new this year, a Farmer's Market Tour await you on this year's Tour des Fleurs.
Each tour package takes you to three different nurseries. You drive yourself to each nursery in your package and enjoy a one hour guided tour. There are five different tour packages to choose from, and each tour package of three nurseries costs only $20.00.
For further information, please call the Half Moon Bay Coastside Chamber of Commerce and Visitors' Bureau at (650) 726-8380 x100.
2010 Tour Locations include:
Bay City Flower Company – This third generation family owned business is one of the largest Hydrangea growers and also one of the most efficient commercial potted plant growers in the nation. They grow for high end commercial merchants such as Smith-Hawkins, Calyx Flowers and Red Envelope. You can also find their potted flowers and plants under the label Hana Bay Flower in upscale garden centers.
Coastside Farmer's Market – John Muller, 2002 Farmer of the Year with 30 years experience, will tour you through our diverse Farmer's Market complete with flowers, fruits, vegetables, fish, herbs, handmade crafts and soaps, and much more from some of the most fertile farmland in the West.  This market is very locally focused and folks will meet a dozen Coastside Farmers in one fell swoop. Farmer John is a wealth of information and has represented American farmers on numerous governmental committees and water boards, and is the Mayor of Half Moon Bay!
Green Oaks Creek Farm & Retreat – Owner Stephanie Jennings will take you on a guided tour of her working organic farm which offers educational programs for children and adults.
Harley Farms Goat Dairy – Harley Farms Goat Dairy, the home of 300 Alpine goats produces fresh award winning cheese daily in what is now the last remaining dairy farm in San Mateo County.
Jacobs Farm/Del Cabo – At this stunning certified organic farm in Pescadero, tour, touch and taste while learning about organic crop production. Begun in 1980, this original family farm site launched what has now become the nation's largest grower/shipper of fine organic culinary herbs and edible flowers.
La Nebbia Winery – Owner Kendyl Kellogg will take you on a guided tour of this private winery, learn some valued tips to grape growing, and sample wines with a unique edible flower pairing.
Nurserymen's Exchange – Founded by Carl and Virginia Pearlstein more than 60 years ago, Nurserymen's Exchange has grown into one of America's leading Wholesale Home and Garden companies. Wholesale only, their BloomRite® brand includes blooming plants, tropical plants and foliage, bulbs and packaged shrubs. They also carry a complete line of home and garden designs.
H. Pastorino & Son Company – Owner Hank Pastorino will guide you through hot houses, fields of flowers, and a unique on-site pottery shop.
PIE Ranch – Tour the historic Steele Ranch grounds and their diversified farm operation with fruit, vegetables, flowers, grains, beans, poultry, and livestock. The afternoon also coincides with their monthly community volunteer day, so people are welcome to stay and get their hands on a farm project, join in the evening potluck from 6:00pm-7:00pm and barn dance from 7:00pm-10:00pm.
Yerba Buena Nursery – Noted for native California plants, ferns, a meandering babbling brook, and a turn of the century historic house, is the pride of Kathy Crane, owner and tour guide.